FOR IMMEDIATE RELEASE
March 3, 2023
ROCKWALL ECONOMIC DEVELOPMENT CORPORATION HONORS LOCAL EMPLOYERS AT ANNUAL EXECUTIVE APPRECIATION EVENT
ROCKWALL, Texas – The Rockwall Economic Development Corporation (REDC) hosted its annual Executive Appreciation Event on Thursday, February 23, 2023 at Hilton Dallas/Rockwall Lakefront. REDC hosted c-suite executives from Rockwall's primary employers, along with City staff, City Council, and ambassadors of the Rockwall Chamber of Commerce. The networking event allowed local primary employers to interact with one another and with City administration and officials.  As the highlight for the event, the REDC presented two companies with awards.
KE Andrews (KEA), a state and local tax valuation firm, was awarded the "Good Neighbor Award" for outstanding contributions to the community. KEA donated more than 18,000 units of food to Helping Hands, a local Rockwall charity, and to Lakepointe Church in 2022.  Additionally, the company donated $10,000 split to each charity. KEA didn't stop the goodwill with these charities.  Each year at Christmas, they fulfill various requests of children and families at Amanda Rochell Elementary. Camille Rohe, Human Resources Manager, accepted the award on KEA's behalf.
Shell & Whitmore Reliability Solutions (SWRS) was awarded the "Economic Impact Award." SWRS represents a joint venture, established in 2021, between Whitmore Manufacturing and Shell Oil Company to market, distribute, and sell lubricants, greases, coolants, and related products to the North American rail and U.S. mining sectors. The joint venture not only makes Rockwall a manufacturing home for a globally known energy company, it will provide significant investment benefitting the local tax base. The company plans to spend over $22 million throughout a five-year period, primarily on taxable equipment. Additionally, SWRS plans to create 30 new positions. Whitmore President Mark Bass accepted the award on behalf of SWRS.
"We wanted to recognize all the contributions for those companies in Rockwall that provide a product or service to regional, national, or international markets.  Every one of these employers add tremendous value to Rockwall," said Phil Wagner, REDC President.  "It was great to specifically mention KE Andrews, for their local philanthropic efforts, and SWRS for their substantial investment as a result of the new joint venture.  We look forward to recognizing even more companies next year."
Pictured from left to right: Matt Wavering (REDC Vice President), Camille Rohe (KE Andrews Human Resources Manager), Kyle Fisher (KE Andrews Executive Vice President), and Phil Wagner (REDC President)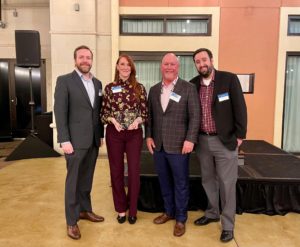 Pictured from left to right: Matt Wavering (REDC Vice President), Mark Bass (Whitmore President) and Phil Wagner (REDC President)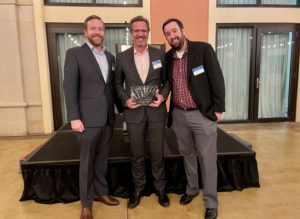 About Rockwall Economic Development Corporation
Since 1996, the Rockwall EDC has actively worked to retain, expand, and recruit industry to Rockwall. The mission of the Rockwall Economic Development Corporation is to broaden and diversify the tax base through new business attraction, land acquisition and development, progressive infrastructure, corporate business expansion, and job creation. For more information about the Rockwall EDC, call (972) 772-0025 or visit www.RockwallEDC.com.